Performance management
Upgrading to a unified communications solution can deliver many powerful and transformative benefits for organisations such as improving daily operations and increasing bottom line profits. However, in the majority of cases, it is true that many of the organisations who have adopted a unified communications solution do not know if their investment has allowed them to meet their cost savings goals, that is despite specifically implementing unified communications to reduce business costs.
Quantifying the benefit of unified communications is proving to be a challenge for many organisations as the benefits can run much deeper than simply cost-savings because the benefits of having all business communications under one centralised system will be seen across the whole organisation.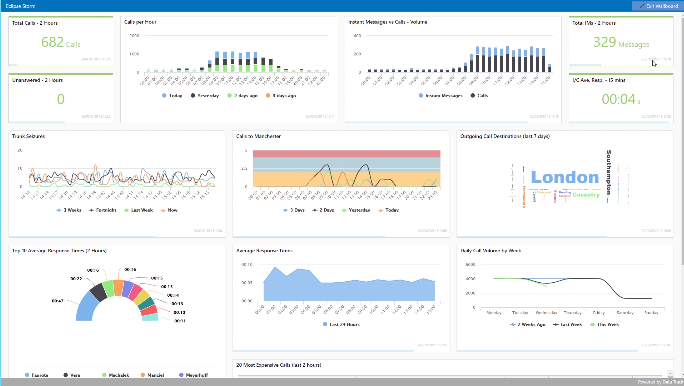 What if there was a way to visualise your entire unified communications activity in one place and see what is happening in real-time?
datatrack's new UC analytics platform, Storm, presents detailed, real-time insight into your entire unified communications activity which will allow you drill down into every aspect of performance, from user behaviour and response times to trends and fraud
What does this mean for you?
It means that you are now able to unlock previously data hidden within your business to form intelligence around your most important and widely used corporate communication assets. Imagine being able to proactively allocate appropriate resources to meet end-user demand – in real-time – and being able to more precisely and more accurately plan for the future. The benefits your business or organisation will now have by accessing this insight at your fingertips in extremely valuable